Frsky XMR Mini 6CH PWM Output Receiver Support Taranis Q X7 Radio Transmitter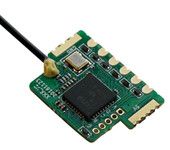 | | |
| --- | --- |
| Part No.: | XMR-MINI |
| Manufacturer: | Frsky |
Send to a friend
Features
Light and compact size
Built-in 6CH PWM outputs
Appropriate for the indoor mini Fixed-Wing and park fly etc.

Follow steps below to finish the binding procedure
1.Turn on the transmitter while holding the F/S button on the module (please refer to the module instruction manual for switch
positions). Release the button. The RED LED on the Module will flash, indicating the transmitter is ready to bind to the
receiver.
2. Connect battery to the XMR receiver while holding the F/S button on the receiver. The LED on the receiver will flash,
indicating the binding process is completed.
3. Turn off both the transmitter and the receiver.
4. Turn on the transmitter and connect the battery. The GREEN LED on the receiver indicates the receiver is receiving
commands from the transmitter. The receiver/transmitter module binding will not have to be repeated, unless one of the two
is replaced.
Product Details
Brand Name: Frsky
Model: Mini XMR
Item Name: Mini XMR 6CH PWM Output Receiver
Dimension: 15*14*3.5mm (L x W x H)
Number of Channels: 1-6 channel
Operating Voltage Range: 3.5~10V
Operating Current: 20mA@5V
Operating Range: >300m
Firmware Upgradeable
Compatibility: FrSky transmitter/transmitter modules in D16 mode

Item Packing
1x Frsky Mini XMR Receiver
Detailed Images