Makeblock Neuron Inventor Kit STEM Programmable Electronic Building Blocks For Children's Wireless communication Bluethooth WiFi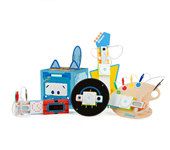 | | |
| --- | --- |
| Part No.: | QA557 |
| Manufacturer: | Makeblock |
Send to a friend
Features
Main Features:
* Craft a new invention in just 5 minutes:
Building blocks are connected in a snap with magnetic Pogo Pins. Users can simply assemble the blocks to make creative gadgets
without needing to write any code.
* No Coding Experience Required:
The graphical programming interface in the Neuron app enables beginners to easily create Neuron applications and add basic or
advanced functionality (e.g. IoT) into their inventions.
* Continuously Updated Invention Guides:
The Neuron app comes with Invention Guides and video tutorials to show you how to get started building with the Inventor Kit. Follow,
then lead with your own creative ideas.
* mBlock Support:
Neuron gadgets can be controlled and programmed using mBlock on desktop and the Neuron app on mobile devices.
Description:
What is Makeblock Neuron Inventor Kit?
Make Anything, Make Everything.
Makeblock Neuron is a programmable electronic building block platform for STEM education. It contains over 30 kinds of blocks with
different functions, so creators can build a variety of innovative gadgets. Combined with intuitive Flow-Based Programming, Neuron
enables creators of all programming levels to turn unlimited ideas into reality.
Plug & Play:
Neuron gadgets can be software independent. You can play Neuron gadgets with/without software namely in online/offline mode. In
offline mode, you can build a gadget to activate a servo operation using Ultrasonic Sensor. In online mode, combined with our Neuron
App, a gadget can be programmed to have complicated action sequences for servo operation and control its movement remotely.
There are infinite ways to Plug & Play!
Flow-based Programming:
The easy-to-use Flow-Based Programming in Neuron App software enables advanced features, like IoT and Microsoft Cognitive
Services, with just a few touch.
Compatibility:
All blocks can be compatible with the mechanical parts of Makeblock via Neuron board.
Idea Cards:
In order to get started with Neuron, each kit equips several Idea Cards to provide you with some ideas and the corresponding
instructions.
Product Details
Battery: 3.7V 950mAh Lithium Battery
Input: 5V/1A Max
Output: 5V/2A Max
Wireless communication: Bluethooth / WiFi
Software: Neuron, mBlcock
Package product: 23 * 17 *7 cm / 9.06 * 6.69 * 2.76 inch
Package weight: 0.98KG
Item Packing
Package list:
1 x Power
1 x Funny Touch
1 x USB Cable (20cm)
1 x Bluetooth
1 x GND Wire
9 x Neuron Board
1 x Buzzer
1 x Funny Switch
36 x Friction Pin Connectors
1 x Dual Servo Driver
1 x LED Panel
20 x Rubber Bands
1 x Servo
1 x Gyro Sensor

NOTE:
CHOKING HAZARD
Small parts. Not for children under 3 years.
Children to use only under adult/'s supervision.
Alligator clip is sharp, please do not clip yourself with the funny switch or the clip of GND wire, it may hurt you.
Detailed Images