DJI NAZA-M V2+GPS V2 COMBO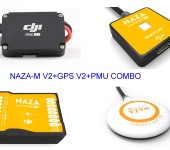 | | |
| --- | --- |
| Part No.: | NAZA-MV2-COMBO |
| Manufacturer: | DJI |
Send to a friend
Features
DJI adheres to continuous innovation and improvement. With the new firmware, new attitude stabilization algorithm and optimized hardware structure, the Naza-M V2 provides better flight performance. The innovative All-in-one design simplifies installation and saves space and weight. It contains inner damping, controllers, 3-axis gyroscope, 3-axis accelerometer and barometer in its light and small Main Controller. It can measure flying altitude and attitude and therefore can be used for autopilot/automatic control.
The Naza PMU V2 has enhanced BEC functionality and provides extendable CAN BUS ports, which can support iOSD, Zenmuse H3-2D gimbal (pitch control). Support is also included for optional Bluetooth LED module to allow parameter adjustment via a mobile APP (future firmware upgrade required for this functionality)
The latest fourth generation attitude stabilization algorithm not only inherits the outstanding flight stability of DJI products, but also provides excellent maneuverability even without the GPS module. It is more flexible and stable, and gives the hobbyists a wonderful flight experience. New features have been included such as GPS course automatic compensation, GPS & Compass sensor calibration, new take-off mode and so on.
Naza-M V2 now supports nine types of multi-rotor, which meets the different needs of the enthusiasts.
Quad I, Quad X;
Hexa I, Hexa V, Hexa Y, Hexa IY;
Octo X, Octo I, Octo V; ( Naza-M V2 does not support the aircraft which has large vibration, so when you choose to use hexa-rotor or octo-rotor, please use the vibration dampening devices accordingly.
It offers three types of control modes: GPS Atti. Mode (with GPS module), Atti. Mode, Manual Mode. The pilot can switch between the three modes to achieve different flight characteristics. It also can adjust automatically within the flight environment and intelligently switch between GPS Atti. Mode and Atti. Mode to make sure the flight is safe and secure. In the software at the position of the manual mode you can choose manual, attitude or failsafe; it supports one key failsafe trigger.
The plug and play GPS module will greatly enhance the performance for Aerial Photography with accurate Position Hold, Return-To-Home and Intelligent Orientation Control functionalities. With the GPS Module, the multi-rotor will have position and altitude locked accurately even in windy conditions. Hovering accuracy is approximately 2.5m horizontal and 0.8m vertical.
Usually, the forward direction of a flying multi-rotor is the same as the nose direction. By using Intelligent Orientation Control (IOC), wherever the nose points, the forward direction has nothing to do with nose direction:
In course lock flying, the forward direction is the same as a recorded nose direction. See the following figures(Mode 1):
In home lock flying, the forward direction is the same as the direction from home point to multi-rotor. See the following figures (Mode 2):
The Independent LED module makes the indication of the flight status and the system status to the ground much clearer. The pilot can get information more quickly and more conveniently, even at night, he/she can get real-time flight information feedback through the LED flashing frequency and colour. In addition, the module has a USB interface, which is used for parameter settings and firmware upgrade.
In most conditions, the whole multi-rotor will retain good attitude and rotate around the frame arm with no power output, due to imbalanced mechanical structure and external environment. Rotating is mainly caused by payload and external environment. When payload is heavier, rotating speed is faster. On rotating, the hexa-rotor physical structure can cause rudder to become out of control. This humanistic protection function from Naza-M V2, in Attitude or GPS Mode, keeps attitude under control even with any one power output failed and highly reduces crash risk.
Product Details
BASIC PERFORMANCE
Supported Multi-rotor
Supported ESC output
Recommended Transmitter
Working Voltage Range
Quad-rotor I4, X4
Hex-rotor I6, X6, IY6, Y6
Octo-rotor I8,V8,X8
400Hz refresh frequency
PCM or 2.4GHz with minimum 4 channels
MC:4.8V~5.5V
VU Input: 7.4V ~ 26.0 V


(recommend 2S ~ 6S LiPo)
Output(V-SEN port red wire): 3A@5V
(burst current:7.5A)
Power Consumption
Operating Temperature
Assistant Software System Requirement
MAX: 3.15W(0.25A@12.6V)
Normal:1.638W(0.13A@12.6V)
-10°C ~ 50°C
Windows XP sp3 / Windows 7 / Windows 8
FLIGHT PERFORMANCE
Hovering Accuracy
(GPS Mode)
Max Yaw Angular Velocity
Max Tilt Angle
Ascent / Descent
Vertical:±0.8m
Horizontal:±2.5m
200°/s
35°
6m/s,4.5m/s
HARDWARE
Weight
Dimensions
Built-In Functions
MC:27g
PMU:28g
GPS:27g
LED:13g
MC: 45.5mm x 32.5mm x 18.5mm
PMU: 39.5mm x 27.5mm x 10.0mm
GPS & Compass 46mm(diameter)x10mm
LED: 25mm x 25mm x 7.0mm
Multiple Autopilot Control Mode
Enhanced Fail-safe
Low Voltage Protection
S-Bus Receiver Support
PPM Receiver Support
Independent PMU Module
2-axle Gimbal Support
Item Packing
-NAZA-M V2 X 1
-GPS V2 X
-PUM X 1
-LED MODEL X 1
Detailed Images