Platinum Series Platinum-30A-Pro OPTO electronic governor / support 6S multi rotor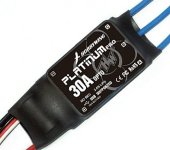 | | |
| --- | --- |
| Part No.: | Platinum-30A-Pro |
| Manufacturer: | Hobbywing |
Send to a friend
Features
Profit Technology latest multi-rotor aircraft designed for multi-rotor aircraft research and design, a number of optimization.
-Use a high-performance processor, has excellent compatibility and high motor drive efficiency. The maximum speed of the motor can reach 210000 RPM (2-pole motor), 70000 RPM (6 poles motor), 35000 RPM (12 poles motor).
-Ordinary start / soft start / super soft and start" the three startup mode, compatible with fixed-wing aircraft and helicopters.
-You can set the throttle, compatible with all commercially available remote control. Possess a smooth, delicate the governor feel, class speed linear and extremely fast throttle response speed.
-Microprocessor uses separate voltage regulator IC, with better anti-interference ability, greatly reducing the possibility of out-of-control.
-With input voltage abnormal protection / battery low voltage protection / over-temperature protection / throttle signal lost protection "multiple protection features, effectively extending the life of the ESC.
-Built-in BEC output voltage between 5.25V and 6V through software switch.
-Support for fixed speed function.
-Can be used with a variety of programmed card (Note: Optional) Use the programming card has a simple and intuitive interface, easy to you anywhere modify the various programming parameters (see set card manual).
-Through the USB interface the programmed card on the the ESC software upgrade, allows you to enjoy the latest ESC permanently.
-Full use of authentic materials to ensure that products with first-class quality and stable performance.
-Have complete independent intellectual property rights, sustainable updates.
Product Details
-Product Model: Platinum-30A-Pro OPTO
-Weight: 31.6g
-Size: 56.5 * 25.6 * 8mm
-Continuous Current: 30A
-Instantaneous maximum current: 45A (10 sec.)
-BEC output: no
-The applicable number of battery cells :2-6S
-Nickel-metal hydride battery :5-18S
-Parameter programming function:
Item Packing
-Platinum Series Platinum-30A-Pro OPTO electronic governor / support 6S multi rotor
Detailed Images