> Product details
ALL-IN-ONE FOUR AXIS CONTROLLER with Firmware upgradable FY-90Q PRO Edition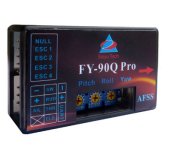 | | |
| --- | --- |
| Part No.: | FY-90QPRO |
| Manufacturer: | Feixiang |
Send to a friend
Features
THIS IS THE FY-90Q PRO EDITION, WITH FIRMWARE UPGRADABLE.

1.Grate stability and wind resistance;

2.Suited to do 3D acrobatic movement;

3.Support firm firmware upgrade.

The FY-90Q QuadCopter rc controller system (Pro edition) is specially designed for QuadCopter use.
| | |
| --- | --- |
| Main advantage | |
| 1 | Grate stability and wind resistance; |
| 2 | Operating hand lines better, and is suited to do 3D acrobatic movement; |
| 3 | Support firmware upgrade, easier to product upgrades. |
The Attitude Flight Stabilization System (AFSS), which is the heart of the FY-90Q, is an integrated 3-axis gyroscope and 3-axis accelerometer. AFSS forms a comprehensive inertial based navigation platform that calculates 3D flight attitude using proprietary FeiYu Tech algorithm.
When in Full Balanced-Mode (Mode 1), the AFSS detects any changes to the model's horizontal attitude. If attitude change is detected, the unit will send out controlling signals to change the Quad's four motor speed to maintain stability and balance.
The FY-90Q supports two Flight Modes. Selection of Flight Modes is via a free channel on your Receiver:

| | |
| --- | --- |
| Mode | Model Description |
| Mode 1(Full Balance Mode) | in this mode, the Quad flight is fully stabilized on all 3 axis, resulting in extremely leveled flight. Suitable for aerial photography, videography, FPV and beginner quad pilots. |
| Mode 2(Aerobatics Mode) | In this flight mode, the controls to the Quad motors are very responsive. Specifically for skilled Quad pilots for sports flying, fast forward flights (FFF), stunts, etc. |
Product Details
-E24Input voltage: 4.0 to 6.0 volts
-Weight: (excluding wires) 20g (71 oz)
-Current draw: 52mA (5V)
-Size: 55 x 33 x 20mm (2.17 x 1.3 x .79 in)
-Maximum rate of rotation: =500° /s
Item Packing
-FY-90Q PRO circuit board X 1
-Receiver connecting wires X 1
-Double-sided tape or velcro fasteners X 2
-Shock absorbing platform with 4 damper bands pre-installed X 1
-Instruction manual X 1
* This is a FOUR AXIS CONTROLLER only, the airplane, speed controllers, motors, radio system etc to be purchased separately.
Detailed Images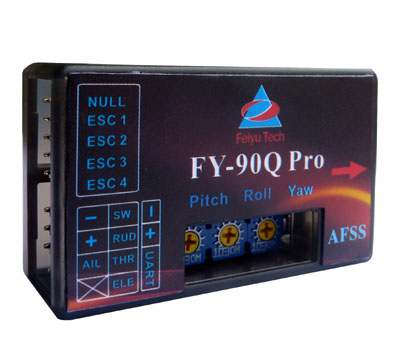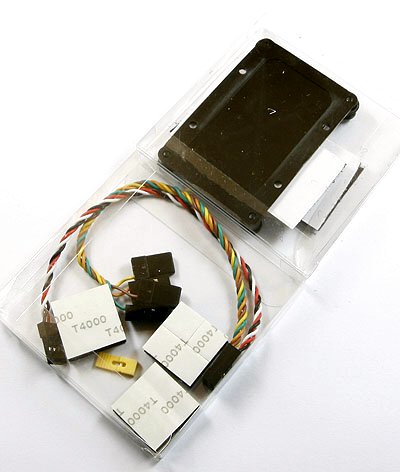 Recommended products list
No Recommended products list