Hobbywing BL ESC for Aircraft and Heli > Product details
Hobbywing Pentium-18A ESC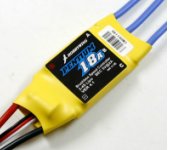 | | |
| --- | --- |
| Part No.: | PM-ESC-18A |
| Manufacturer: | Hobbywing |
Send to a friend
Features
-Safety Arming Feature: Regardless the Throttle Stick position, the motor will not spin after battery connected. This will prevent any injury happened.
-Throttle Calibration: Throttle range can be configured to provide best throttling linearity, fully compatible with all market available transmitters.
-Programmable Items:
-Brake Settings:brake enabled / brake disabled, default is brake disabled
-Battery Type:Li-xx(Li-ion or Li-poly) / Ni-xx(NiMh or Nicd),default is Li-xx.
-Low Voltage Protection Mode(Cutoff Mode) :power reducing / power cutoff, default is power reducing.
-Low Voltage Protection Threshold(Cutoff Threshold) :low / medium / high, default is medium cutoff voltage.
-For Li-xx battery,number of battery cells are judged automatically,low / medium / high cutoff voltage for each cell are: 2.6V/2.85V/3.1V. For example: 3 Cells Li-Poly, when medium cutoff voltage is set, the cutoff voltage is: 2.85*3=8.55V.
-For Ni-xx battery, low / medium / high cutoff voltages are 0%/45%/60% of the startup voltage (0% means the low voltage cutoff protection function is disabled) . For example: a 10 cells NiMH battery pack, fully charged voltage is 1.44*10=14.4V, when medium cutoff voltage is set, the cutoff voltage is : 14.4*45%=6.5V
-Startup mode: normal / soft / super-soft, default is normal startup.
-Timing: low / medium / high, default is medium timing. In normal cases, low timing can be used for most motors. But for high efficiency, we recommend the Low timing for 2 poles motor and Medium timing for 6 poles and above. For higher speed, High timing could be used.
- Full Protection Features: Low-voltage cutoff protection / over-heat protection / throttle signal lost protection.
Product Details
-Output: Continues 18A, Burst 22A up to 10 Secs.
-Input Voltage: 5.6V --- 16.8V ( Lithium : 2 – 4s or NiMH/NiCd 5 -12 Cells)
-BEC (Battery Elimination Circuit) Output:linear mode BEC 2A
-Max Speed: 210,000rpm for 2 Poles BLM, 70,000rpm for 6 poles BLM, 35,000rpm for 12 poles BLM. (BLM: BrushLess Motor)
-Size:24mm*45mm*11mm(width*length*height)
-Weight: 19g
-Packaging include:
3 sets of gold plated motor connectors and heat-shrink tubings (Remark: motor connectors and heat-shrink tubings need to be purchased additionally)
Advangages
- Military Standard Capacitor with extremely low resistance used on voltage input section, this will increase the ability of prevention of unwanted RF Noise/ Interference during flying.
-Extreme low resistance, super current endurance.
- Microprocessor and BEC use separate voltage regulator IC, with good anti-jamming capability.
- Compatible with Hobbywing's Program Card .
-Own complete intellectual property rights.
Item Packing
-Hobbywing Pentium-18A ESC
Detailed Images